Apple and Brie Tart Recipe
February 28, 2011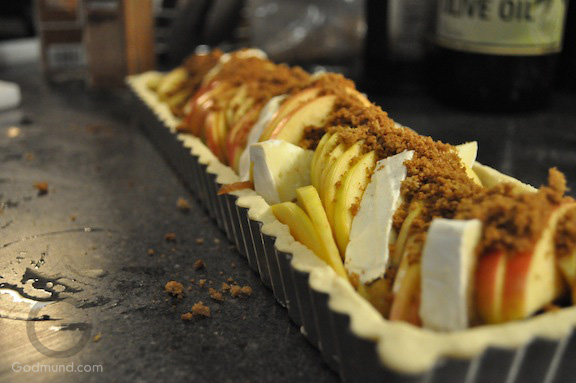 I love making rectangular tarts. They look great and are really easy to slice and serve. I also love brie cheese in deserts. When it melts into fruit (and/or nuts) it turns slightly more sweet and has an amazing creaminess. Baking really opens it up!
Recipe: One recipe Shortbread Crust pressed into a 13 3/4″ X 4 1/2″ Tart pan
Preheat oven to 350F
filling:
1 large apple (cubed)
1/2 cup brown sugar
1 tbsp cinnamon
1/4 tsp cloves
3 tbsp butter
1 tsp vanilla extract
pinch of salt
2 tbsp chestnut spread (optional)
Topping:
2 large apples (quartered and sliced thin)
3-4 ounces of brie (cut into 4-5, 4″ long slices)
1/3 cup brown sugar
1 tsp vanilla
1tsp cinnamon
1/4 tsp cloves
pinch of ground ginger
For filling: melt butter in small skillet on medium/low heat. Add apples and saute until soft. Toss in brown sugar and all spices/salt/extract/chestnut spread and continue to saute for about 2 minutes. Remove from heat and let sit until just warm to touch.
For the topping:
Slice the apples into quarters and then slice each quarter into very thin slices. Set aside.
Combine sugar, vanilla and spices (mixture should be rough and crumbly).
Assembly:
Portion out the filling in the bottom of the tart. Starting at the top of the pan and working your way to the back add a slab of brie and then a quarter of the apple slices 'fanned out' then another slice of brie and repeat. you may have to adjust the apples to fit everything into the tart. Once all apple slices and brie are portioned on top of the tart sprinkle the sugar/spice mixture down the center of the tart. Bake for 25-30 minutes or until the tart crust just starts to brown.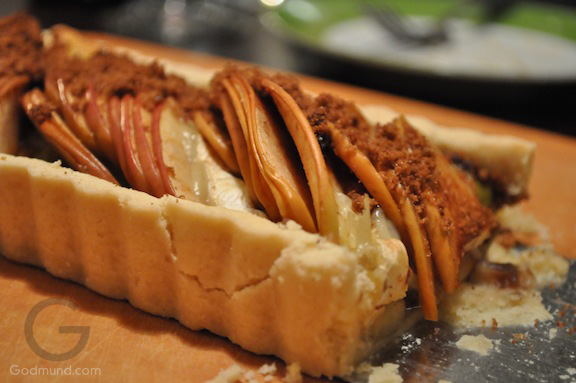 Tags: apples, brie, brown sugar, butter, chestnut, cinnamon, cloves, recipe, shortbread, tart, vanilla