Apple Pie with Acorn Squash
November 24, 2010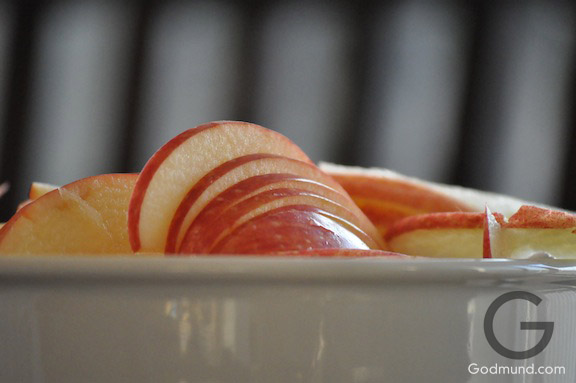 So, Ive made about three million apple pies/tarts over the last 29 years. So for Thanksgiving lunch I thought I would add something that I assumed would go well with the flavors/occassion; Acorn Squash. It turned out great!
Recipe:
1 recipe Shortbread Crust
5 medium sized apples sliced (I used Roma)
1 small acorn squash
2 tbsp cinnamon
1/2 cup brown sugar
1 tsp allspice
1 tsp cloves
1 tsp ginger
4 tablespoons molasses
1 stick butter
quarter and braise acorn squash in the oven until soft. cut away the rind and cube the remaining meat. set aside.
put apples, sugar, and all spices in a paper grocery sack. shake until apples are coated with sugar and spices.
in a dish, combine molasses and 4 tablespoons butter. Heat until butter is melted and molasses is warm (in microwave or on stovetop). Stir until fully combined. Add cubes of acorn squash to mixture and coat thoroughly.
Press the shortbread crust dough into an 11″ pie or tart pan (save 1/2 cup for topping) . Add a single layer of apple slices to the bottom of the dish. Add all of the acorn squash cubes on top of the apple layer. now layer the remaining apples on top of the acorn squash, pressing down occasionally to compact the layers.
Cut up the remaining 4 tablespoons of butter into half inch cuts and distribute across the surface of the pie. Crumb the remaining 1/2 cup of shortbread dough over the pie surface.
Bake at 350F for 30-35 minutes or until crust is starting to brown.