Arganica Farm Club delivers at 6:05am
February 28, 2011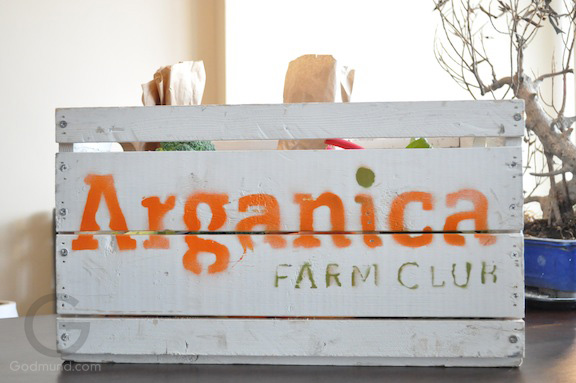 So I signed up through LivingSocial for 6 months of Arganica Farm Club local food delivery. Basically the company supplies the washington DC and Virginia area with home delivered 'locally' grown food. You get an order once a week.
The main reason I tried this out is because the Harris Teeter near my home (the one at Pentagon Row) has some of the shittiest and most expensive produce i've ever seen. Seriously, Whole Foods is cheaper (and, of course, better).
I looked over their prices, did the math, and realized that I would actually SAVE about 10% on produce if I went with Arganica. Plus the added bonus of having it delivered to my door… the only downside is that my delivery window appears to be 6:05am on Sunday morning. Oh well, there are worse things in life than waking up to a rustic wooden box full of beautiful fruits and vegetables :-)
A couple notes about Arganica. The vegetables appear be very high quality. I also ordered eggs, butter, bacon and milk. The milk, apparently, sold out… because none showed up with my order. The butter is no better than the Kelly's Irish butter you can get at any supermarket (for about 20cents cheaper), the eggs are comparable in price and quality to organic eggs at the super market, but the bacon is absolutely fantastic (very rich and fatty with a great spice rub).
In a couple weeks i'll order some more veggies and (hopefully) some delicious local milk in a glass bottle…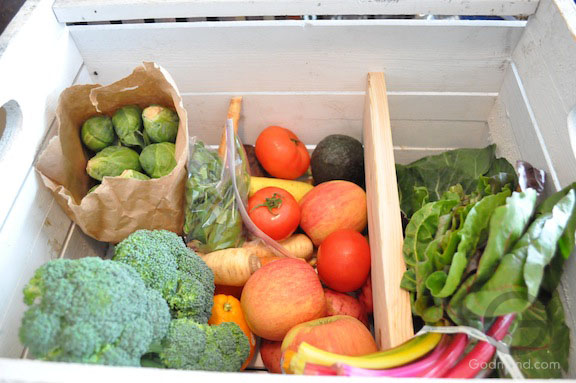 Tags: arganica, Arganica Farm Club, food, home delivery, local, local fruit, local vegetables, produce