Carolina Crisp
June 9, 2011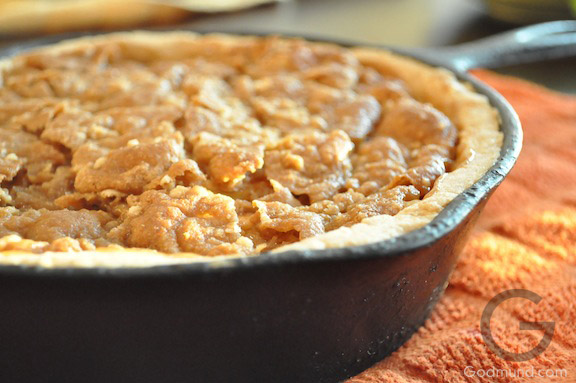 Sometimes when you're making a new recipe the best place to start is to come up with the name. This one is called Carolina Crisp… for no particular reason. What it ended up actually BEING is a deep dish apple pie with a whiskey caramel filling and a crunchy brown sugar roof.
Recipe:
Preheat oven to 350F
Crust:
1 recipe shortbread pie crust
Filling:
3 medium size Granny Smith apples, sliced
3/4 cup brown sugar
1/3 cup granular sugar
2 tablespoons whiskey
1/2 teaspoon cinnamon
1/2 teaspoon nutmeg
Caramel:
1 cup heavy cream
3 tablespoons whiskey
1 tablespoon granular sugar
Roof:
2 tablespoons shortbread crust dough
1/2 cup brown sugar
1/2 tsp vanilla extract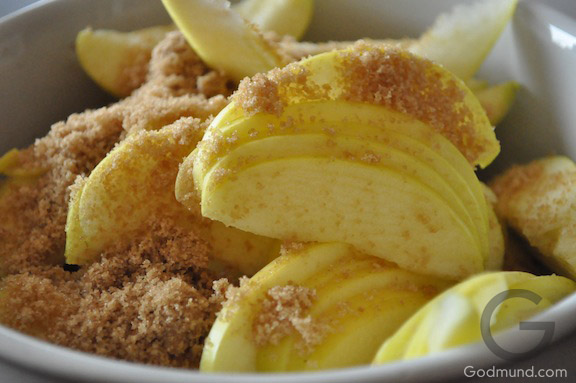 Directions:
Assemble Shortbread Pie crust, set aside two tablespoons of dough for Roof recipe.
Press remaining dough into 8 inch cast iron pan. bake at 350F for 5 minutes.
mix sliced apples, brown sugar, cinnamon, nutmeg, whiskey, and granular sugar.
place apples into crust and bake for 25 minutes.
While apples are baking assemble roof. combine the remaining crust dough, brown sugar and vanilla extract. the result should be a crumbly pale brown mixture. Line a 8″ spring form pan with either tin foil or parchment paper. Sprinkle mixture in lined pan and bake for 10-15 minutes (or until melted and 'bubbly').
remove from oven and let cool for 15 minutes.
Mix sugar with heavy cream. Warm heavy cream until its just above room temperature and warm to the touch. Mix in whiskey.
Remove Apple pie from oven and pour cream mixture over apples. Take "roof" out of springform pan and peel off foil/ parchment paper. Lay roof on top of apple pie, lightly pressing roof into pie, fully covering the surface of the apple pie.
wrap the pie in tin foil and place back in oven for 10 minutes.
Remove tin foil and return to oven for five minutes.
Let fully cool, serve.