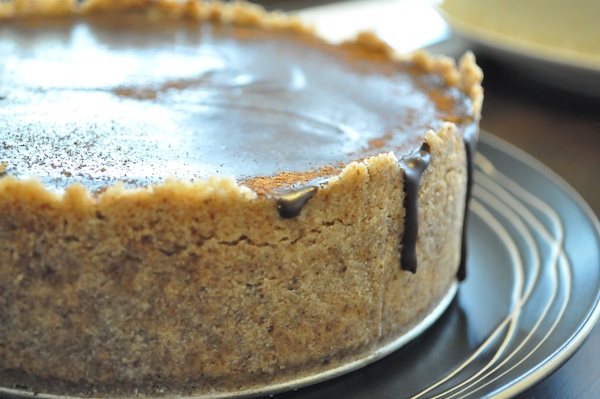 Bold Coffee Cheesecake Recipe
March 22, 2013
I looooove coffee. So this is a coffee cheesecake recipe thats light on the sweet and heavy on the coffee. Warning… this is NOT a sweet cheesecake. If you never drink your coffee without sugar you might want to add a half cup more sugar. But if you want a bold and smooth cup of coffee with just a touch of cream you'll love this.
Crust:
Recipe for Shortbread pie crust
Cheesecake:
2 bricks of cream cheese
1/2 cup granular white sugar
1/2 tsp ground cinnamon
2 eggs
1/2 cup sour cream
2 tbsp all purpose flour
2 tsp freeze dried coffee (starbucks VIA italian roast is great for this)
1 tsp coffee extract
Ganache:
4 ounces of semi sweet bakers chocolate
1 tbsp cocoa
1/2 cup heavy cream
Instructions:
Preheat your oven to 350F. Have one rack in the center of your oven and one rack positioned just below it. On the lower shelf place a pan (round cake pan or pie tin works fine) with about an inch of water.
Prepare the shortbread pie crust according to instructions and press into an 8 inch springform pan. Press this as thin as possible.
Soften the cream cheese by either leaving at room temperature for 4-5 hours or microwaving the blocks individually for 20-30 seconds.
Blend the softened cream cheese, sugar, and coffee until fully combined. In a separate bowl beat the eggs, cinnamon and freeze dried coffee for 30 seconds. Add the egg mixture to your cream cheese mixture and beat for 1 minute on low. Add flour and beat for another minute. Pour mixture into springform pan. Place in oven.
Before closing up the oven double check your bath. Add some water to it if its more than half way empty.
Bake for about 40 minutes or until the center is firm.
Remove from oven and let cool in the pan.
Grate your chocolate into a bowl with high walls. In a double boiler slowly heat up your heavy cream. Once the cream starts to bubble (or is too hot to touch) remove from heat and pour into the center of the chocolate. Stir slowly until all chocolate is melted and the ganache is smooth. Pour ganache onto the top of the room temperature cheesecake.
Place in the fridge and chill for at least 2 hours. Once chilled bring the cheesecake back to room temperature before slowly removing the outer ring of the springform pan. Serve!
Dust with some starbucks via :-)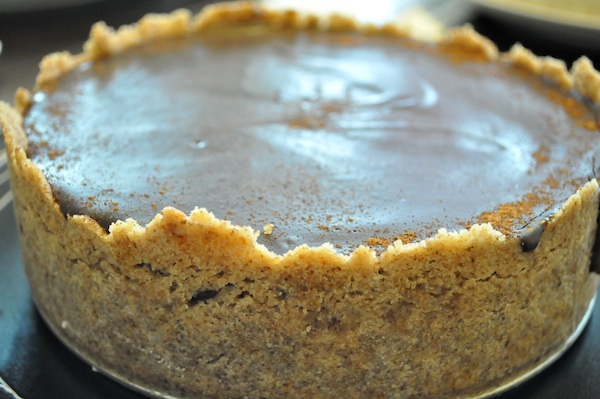 Tags: cheesecake, coffee, recipe