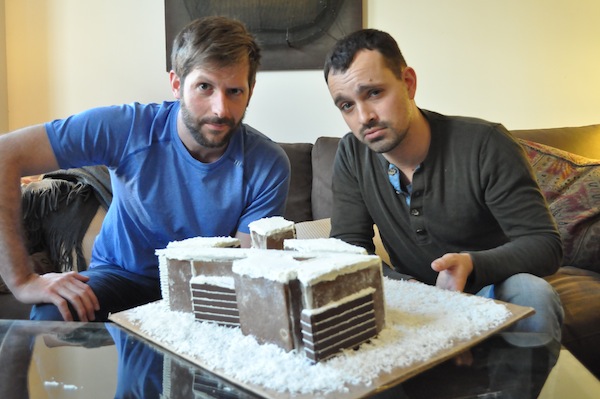 Gingerbread National Gallery of Art – East Wing
December 22, 2013
My buddy Neil and I spent a couple days putting together a gingerbread 'house' in the form of a scale model of the East Wing of the National Gallery of Art. It was a fun and challenging project. The building was conceived by I.M. Pei. He's an amazing architect. This was always my favorite museum in DC. I grew up visiting it about once a week. They use to have "Jack in the Pulpit #5" on display in their permanent collection. I loved staring at the little red sliver in the center of the forms.
Anyway, we settled on the building as part of a submission to the Architizer gingerbread house competition. Architizer is a web site focused on modernist architecture around the world. This particular building seemed like a great way to pay tribute to modern architecture as well as DC.
During the process of planning out this structure we used Sketch-up to match our dimensions to the scale of the building. It comes in at 4.5″ high and approximately 16″ at its widest point. We used tolberone for the classic Pei pyramid skylights and japanese gummy candies for the permanent stone dome installations (Andy Goldsworthy : Roof) on the north side. For the Henry Moore piece in the main entrance we used a bent peach gummy… thats a tricky one :-) . The 'snow' outside the gallery is coconut. All of the windows were made from sheets of dark chocolate.
This was a challenging little project. I can't wait for the next gingerbread house!