Halloween Pumpkin Chocolate Marble Cheesecake
October 12, 2012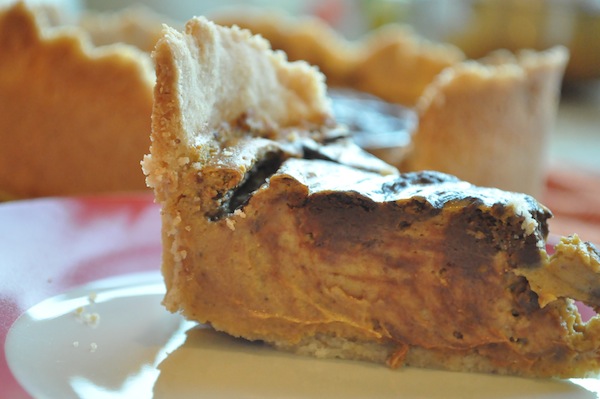 I whipped this up last weekend while watching several iterations of the Halloween franchise. Those movies are SOOOOO much fun this time of year. And for some reason watching babysitters get chased around by evil sibling murderers puts me in the baking mood. Happy Halloween folks :-)
Recipe for 8″ pie:
One recipe Shortbread pie crust
1 pkg cream cheese (softened)
1 can pureed pumpkin (apx 15 ounces)
1 egg
1/2 cup sugar
1 teaspoon vanilla extract
1 teaspoon ground cinnamon
1/2 teaspoon ground nutmeg
1/4 teaspoon ground ginger
2 ounces bittersweet bakers chocolate (finely grated)
Crust:
Prepare shortbread pie crust and press into an 8inch springform pan. Place in oven at 350F for 5 minutes. Remove and let cool slightly.
Pumpkin Filling:
Combine cream cheese and sugar in a bowl. Beat on medium for 30 seconds. Add in egg. Beat until fully combined. Empty can of pureed pumpkin, vanilla, cinnamon, nutmeg, and ginger. Beat on medium for 1 minute. Spoon three tablespoons of batter into a medium size bowl and set aside. Using a rubber spatula spoon out the remaining batter into the pie shell.
Chocolate Swirl:
Microwave the medium size bowl containing 3 tablespoons of pumpkin batter (or heat it up in double boiler) for 30 seconds (obviously longer if you are using a double boiler – heat until hot to the touch). Put the finely grated chocolate into the bowl of hot batter and mix until all chocolate is melted and combined evenly with the batter.
Pour or spoon chocolate mixture onto pie. using a chopstick or a toothpick (or the edge of a butter knife) marble the two batters together.
Finishing:
Place pie on a large piece of tin foil. Wrap tin foil around sides of pie. Overlap edges of tin foil to protect the edges of the pie.
Place pie in oven for approximately one hour or until pie begins to slightly pull away from the crust. Remove and cool. Remove springform shell and serve.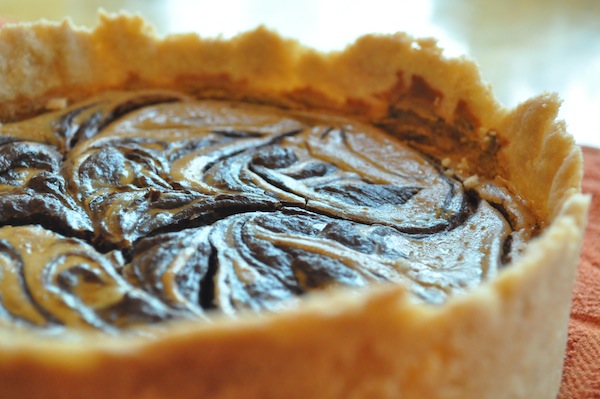 Tags: cheesecake, chocolate, Halloween, Pumpkin