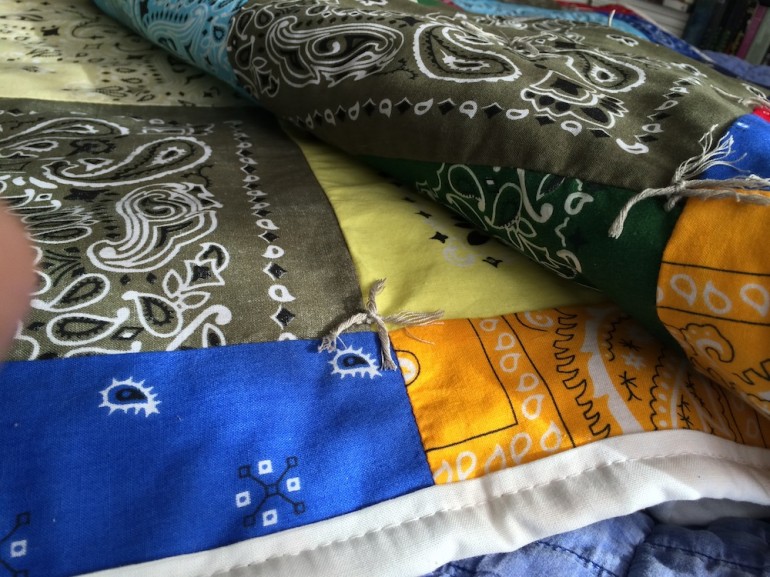 Handkerchief tie quilt
April 20, 2014
A couple years ago I happened upon a bunch of handkerchiefs on eBay. They were dirt cheap and I figured I could make something out of them. Like many quilt projects this took a very long time to complete. Not because the quilting process was especially difficult or time consuming. After all, this is a 'tie' quilt, which means there is very little actual 'quilting' going on since the individual knotted 'ties' are what holds the quilt top to the batting and backing.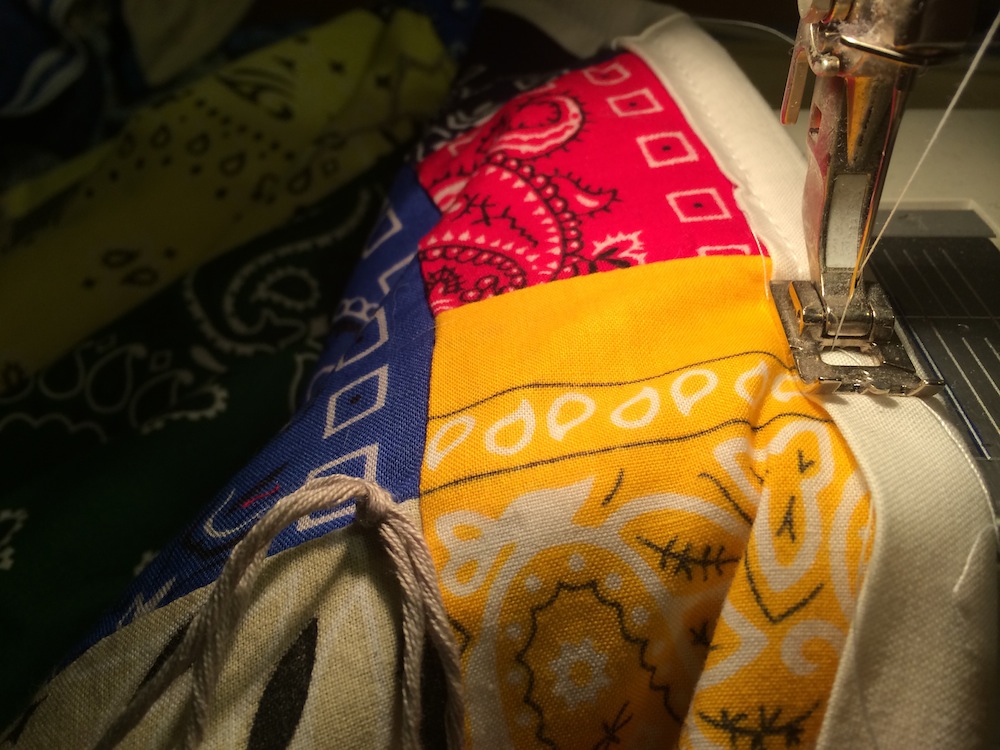 My process has always been to split the work for a quilt between the actual piecing of the top and the final assembly. I have about 7-8 quilt tops that are fully assembled. Many of them are 5-6 years old. Typically I give the quilt top a few months to a year before I decided to how to quilt/finish it. The quilt tops can take a massive amount of work, so if I dive right into the quilting ill often short change the process just to get to the end faster. Giving the work some distance helps me make the right decision when it comes to completing the blanket. Luckily, this quilt was always going to be a tie quilt (handkerchiefs are such crappy quality… it would be foolish to invest a hundred or more hours in any serious quilting work for something that probably wont last more than 30 years). The finishing ended up being only about 7-8 hours of work.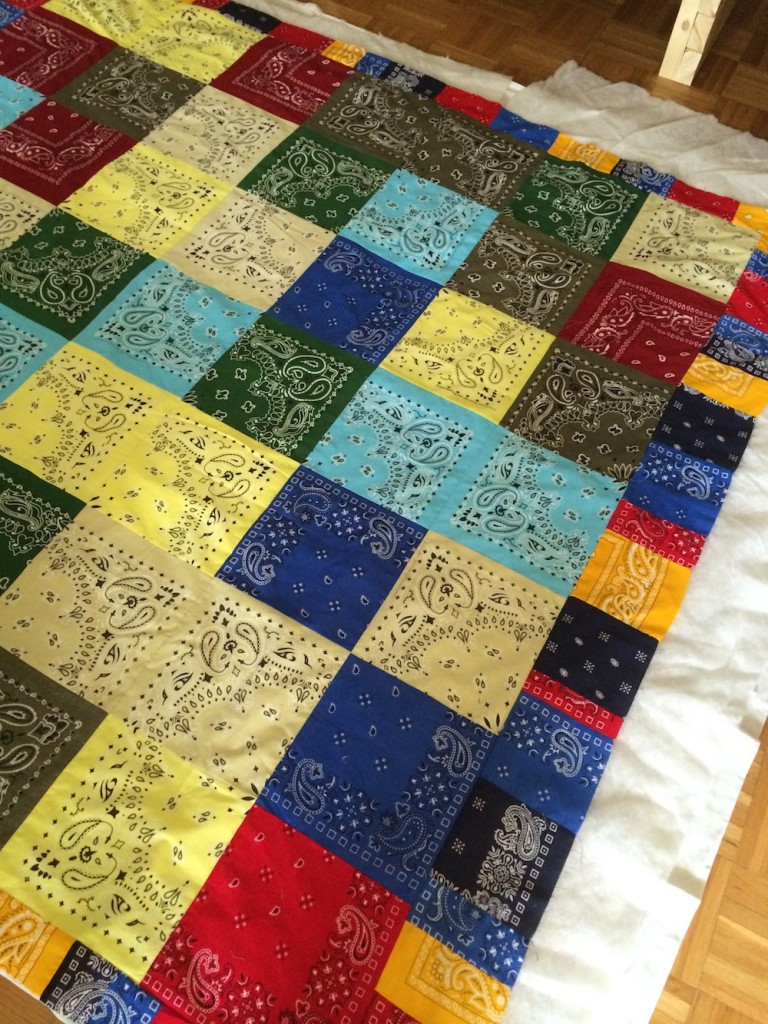 Anyway, I finally completed this simple, rustic quilt last night by making a few yards of white bias tape from some kona cotton I had lying around. This is the first time i've ever done a pure white edge on a quilt. I wanted to use either black, indigo or white since there are already so many mismatched and odd colors in the patchwork. Indigo would have been the better fit but sometimes you just have to use what you got!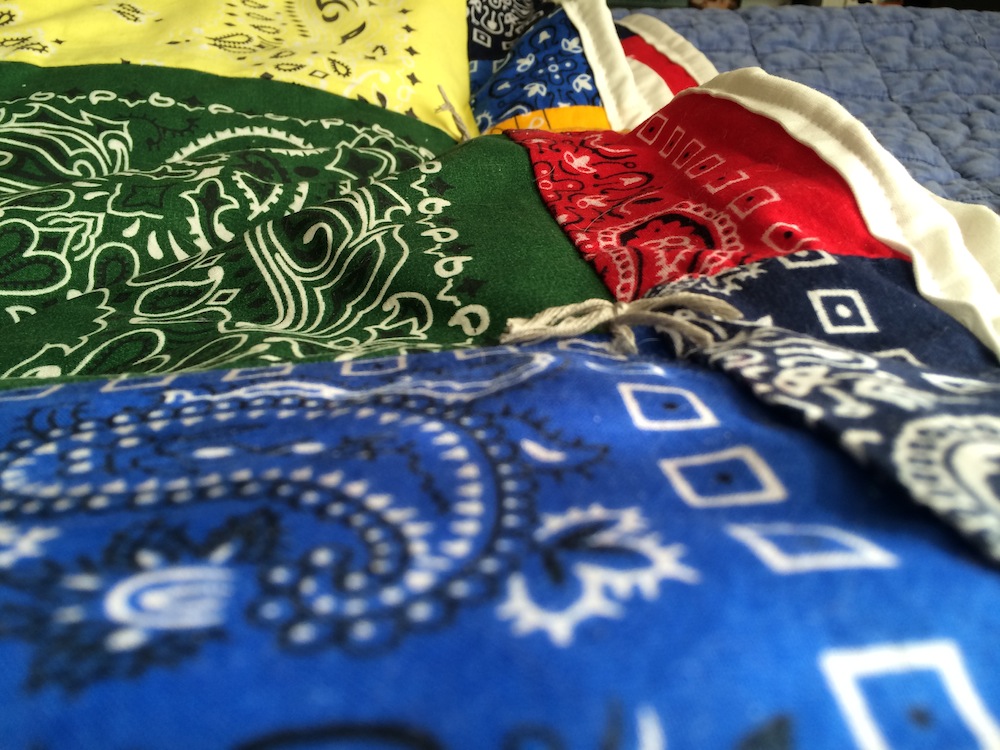 Tags: handkerchief, handmade, knotted, quilt, tie quilt