Lemon Cheesecake Recipe with Chocolate Ganache
April 14, 2011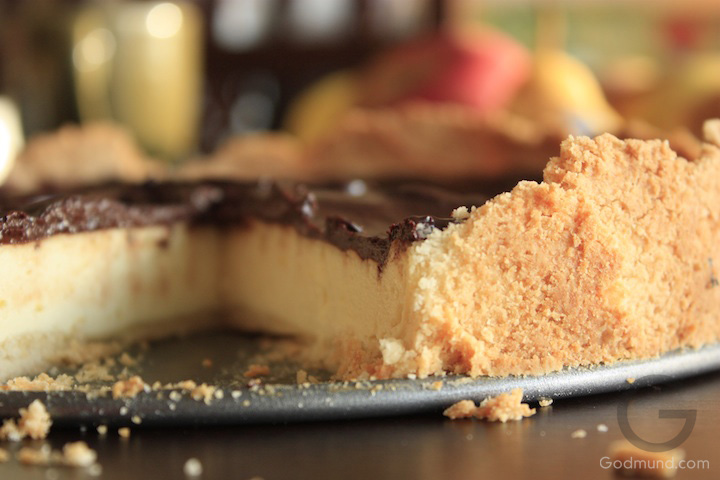 Ive made this recipe a few times over the last three weeks. Once I substituted chocolate ganache for a blackberry glaze. Another time I tried a raspberry glaze… both fell short of the excellent flavor combination that is lemon and chocolate. In this cheesecake the lemon is lightly sweet and creamy. The chocolate is strong.
Recipe:
One recipe Shortbread Pie crust formed into either a 7″ or 8″ spring form pan.
Cheesecake recipe:
2 packages cream cheese (16 ounces total)
2 eggs
1 cup sugar
1 tsp vanilla extract
1/2 tsp lemon extract
1/4 cup flour
1/4 cup whole milk
1/2 tsp lemon zest
Soften cream cheese, add eggs, both extracts, sugar and zest. Combine with an electric mixer until smooth. Add milk and flour, mix until fully integrated. Continue to beat on medium for 30-45 seconds.
Pour mixture into shortbread crust and bake at 350F for 25-30 minutes or until the center is firm (doesnt wiggle).
Once cheesecake is fully baked allow it to reach room temperature (cheesecake MAY pull away from the crust slightly). Spread Chocolate Ganache over the entire surface of the cheesecake. Remove the spring form ring and cool in the refrigerator for at least 2 hours before serving.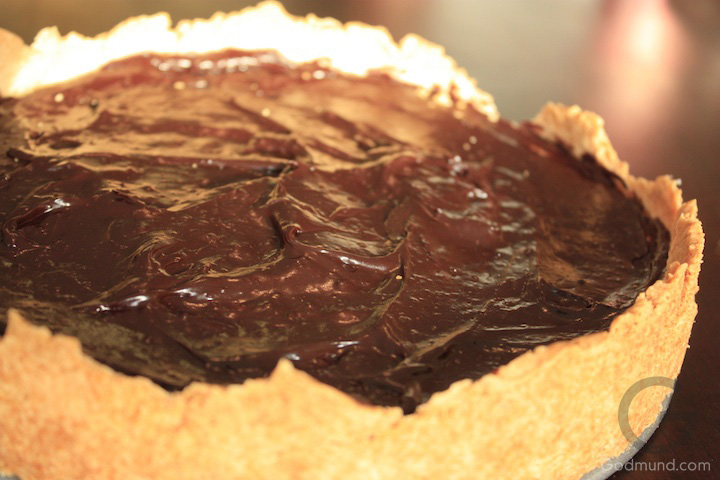 Chocolate Ganache recipe:
1 cup shaved dark chocolate
1 tbsp cocoa
1/3 cup heavy cream
You can shave bakers chocolate or fine confectionary (dark) chocolate with a normal salad grater. While you are grating the chocolate slowly heat the heavy cream in a double boiler.
Once you have shaved 1 cup of chocolate place in a bowl and mix in the cocoa powder. Create a hole in the center of the shaved chocolate and cocoa. Slowly pour half of the hot cream mixture into the center of the chocolate. Mix in the chocolate until it appears to form lumps. Add half of the remaining hot cream and continue mixing. Consistency should be a smooth pudding like mixture. If needed, add remaining cream. Use before mixture cools (within 5 minutes).
Tags: baking, blackberry, cheesecake, chocolate, lemon, Raspberry, recipe, shortbread