Lesson learned: Raspberry Cheesecake Should Taste Like Cheesecake with Raspberries
September 11, 2010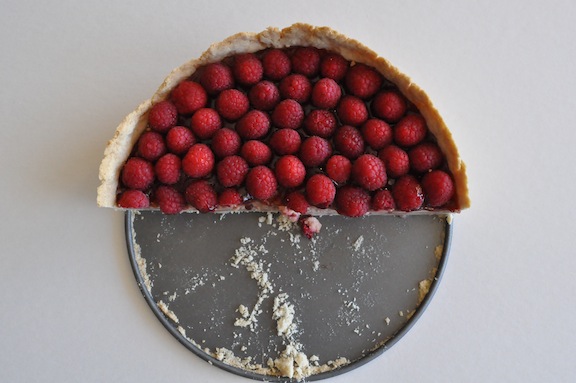 I found these really beautiful raspberries at Costco for 2.99 a batch (I think they were technically cheaper than apples… amazing). I went ahead and bought two batches. The same night I had some out of town guests coming over for dinner so I decided I would make a very raspberry cheesecake… meaning that the cheesecake itself would be flavored with raspberry as well as the topping. After adding half a jar of seedless raspberry preserves, some extra flour and egg to stabilize the additional liquid, and a healthy dose of pomegranate molasses (to mimic the tartness of raspberries) I baked the cake (turned out texturally perfect) and added a sweet raspberry glaze and a layer of fresh berries. The cake looked awesome. The rustic crust turned out beautifully (no broken edges). And the fresh raspberries tiled nicely.
Upon serving my guests the desert (after a hearty meal of baked chicken, homemade stuffing, gravy, and salad) I was a little surprised that no one seemed to eat much of the cake. I cut myself a piece and quickly started a conversation about the Middle East.
While we dove into solving the worlds problems, I noticed something disturbing. The Cheesecake wasn't a cheesecake anymore. In fact, it didn't taste like anything. Somehow the raspberry, and pomegranate molasses, has merely countered the naturally sour flavor of the cream cheese…. and the result was NOTHING. it didn't taste like raspberry, it didn't taste like cheesecake, it tasted like soft, perfectly formed, mildly sweet, desert matter. Thank god for the raspberry glaze and fresh berries… otherwise I would have had to dish out the stand-by ice cream and fresh berries (always have a backup desert when you have guests over).
Lesson learned. Leave cheesecake to taste like cheesecake. Focus on the toppings as flavor definition (this must be why I never enjoyed chocolate cheesecake).