Pumpkin Cheesecake with Chocolate and Ancho Chili
November 13, 2011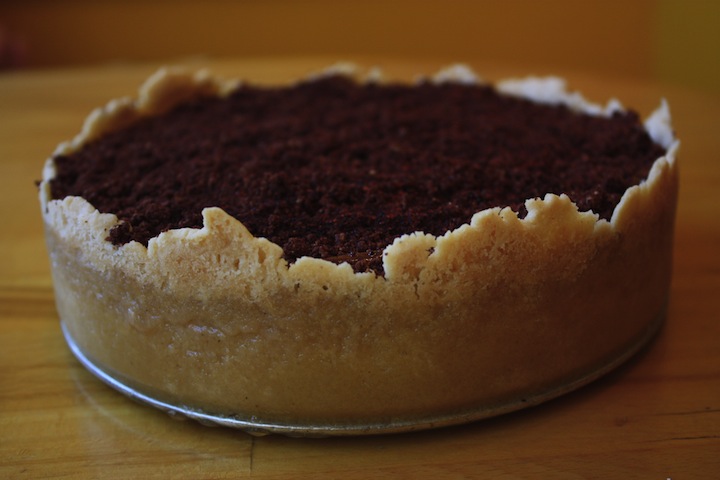 Who doesn't love cheesecake? And who doesn't love pumpkin pie? And WHO doesn't love chocolate with a little kick to it? If you asked the same questions I asked then this just might be the dessert for you.
The recipe below has JUST enough chili powder to make you aware of it. If you want something truly spicy I would recommend getting a fresh jalapeño, finely dicing about a quarter teaspoon and adding that to the chocolate when you are cooking it.
This is for an 8″cheesecake (springform pan).
Thanks to Shawn for the photos. Ive been lazy lately…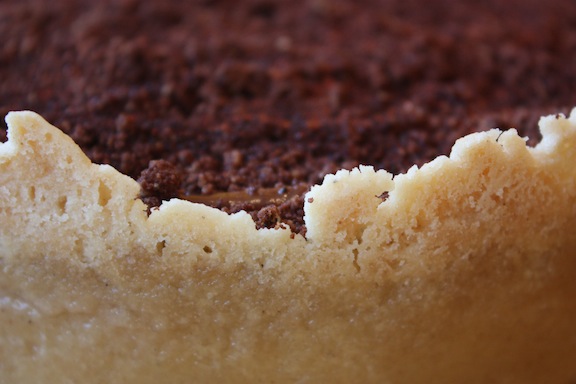 Recipe:
1 Recipe Shortbread Pie Crust (with 1/4 tsp ground nutmeg added in).
Set aside 2 tbsp of crust for topping. Press remaining pie crust into 8inch spring form pan and bake at 350F for 7-10 minutes. Remove and let cool while you are preparing the filling.
Pumpkin Cheesecake:
1 can pureed pumpkin (15 oz)
1 package cream cheese (8 oz)
1/2 tsp cinnamon
1/4 tsp nutmeg
1/2 tsp pureed ginger
2 tbsp sugar
2 tbsp flour
2 eggs
1 tbsp milk
Soften the cream cheese until its room temperature. Combine all ingredients in a bowl (except eggs and milk) and mix for 45sec/ 1 min with an electric mixer on low. Add in each egg, mixing for 30 seconds after each. Mix in milk. Beat mixture on high for at least 20 seconds.
Pour mixture into crust (make sure you leave at least a 1/2 inch of room from the top of the crust) and bake at 350F for 30 minutes.
Once Cheesecake is cooked remove from oven and allow to fully cool. Refrigerate for 30 minutes before adding chocolate topping.
Chocolate:
1 package milk chocolate chips
1/4 cup condensed milk
dash ground chili pepper
1 tsp ancho chili powder
1/8 tsp salt
In saucepan on stovetop over low heat melt the milk chocolate chips. Add condensed milk, both chili powders and salt and mix until combined. Spoon to onto chilled cheesecake, spreading until entire surface of cake is covered. Place in refrigerator for 1 hour.
topping:
2 tbsp of the shortbread crust (uncooked)
1 tbsp cocoa powder
1/4 tsp cinnamon
dash of chili pepper
1/2 tsp ancho chili powder
combine all ingredients into a small bowl. Using your hands combine all ingredients until you have a crumbly yet fine mixture. Should resemble course wet sawdust. Sprinkle the mixture on a piece of tin foil and bake at 350F for about 5 minutes. Let cool completely and sprinkle on top of chocolate mixture.
decorate with roasted pumpkin seeds and jalapeño/ancho chills and serve!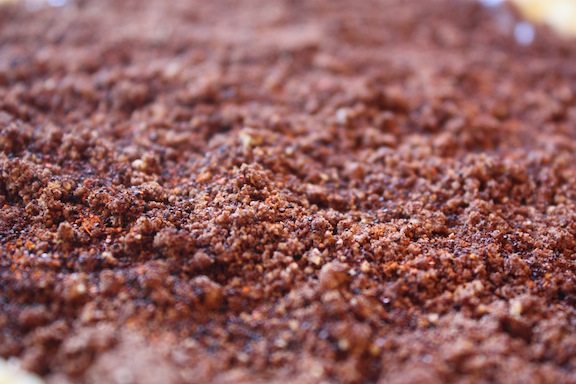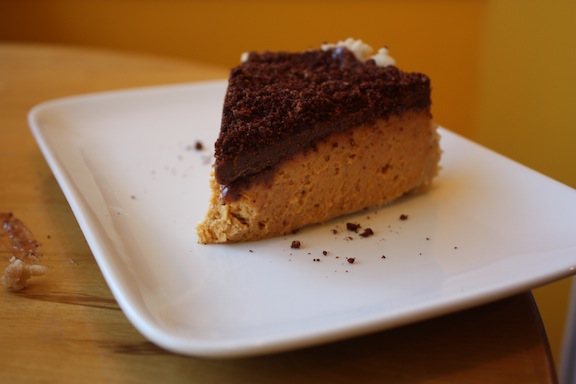 Tags: Ancho Chile, chocolate, Pumpkin Cheesecake, Pumpkin Cheesecake Recipe, recipe