Pumpkin Pie Recipe
October 28, 2010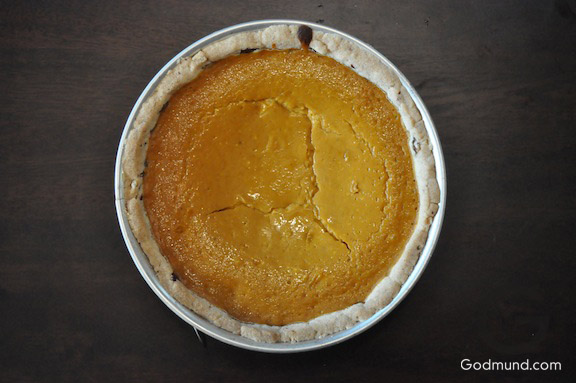 Ive been making a lot of pumpkin pies lately (sometimes with Squash… Acorn in particular is fantastic). I whipped together a couple on Sunday night in a rush to feel like I accomplished SOMETHING (it was a weekend of half finished projects… I really hate those).
This is the recipe I used to create two small (yet deep) pies. The round one is an 8″ spring form pan (about 4 inches deep) and the rounded rectangle spring form pan is about 13″ long, 5″ wide and 4″ deep.
Crust:
2/3 cup butter (softened)
2/3 cup sugar
1 tsp vanilla
2/3 cup lightly crushed pecans
1-1/2 to 2 cups flour
Filling:
2 cans (un-spiced) pumpkin puree
1/2 cup sugar
1/2 cup brown sugar
2 tbsp molasses
3 eggs
2 bricks cream cheese (softened)
1/2 cup flour
1tsp cloves
1tsp allspice
1tsp ground ginger
1-1/2 tsp nutmeg
2-1/2 tbsp cinnamon
Crust:
Combine butter, sugar and vanilla. Add flour a half cup at a time until dough is just beginning crumble. Add in desired amount of crushed pecans.
Press dough into the pie shell or spring form pan until it a consistent thickness. Bake in a 350F oven for 5-7 minutes.
Filling:
Combine pumpkin, sugar, molasses, and eggs. Beat on high until fully combined. add all spices and beat until combined. Add softened cream cheese and beat for about 2 minutes (or until you cannot see white spots anymore).
sprinkle in flour until constancy is smooth and thick (should NOT be soupy).
Pout no more than 2.5 inches of batter into pre-heated pie shells.
Cook for 30-35 minutes at 350F. Chill and serve!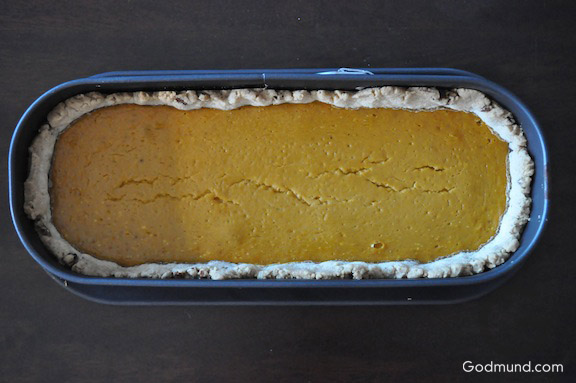 Tags: Pumpkin, Pumpkin Pie, recipe