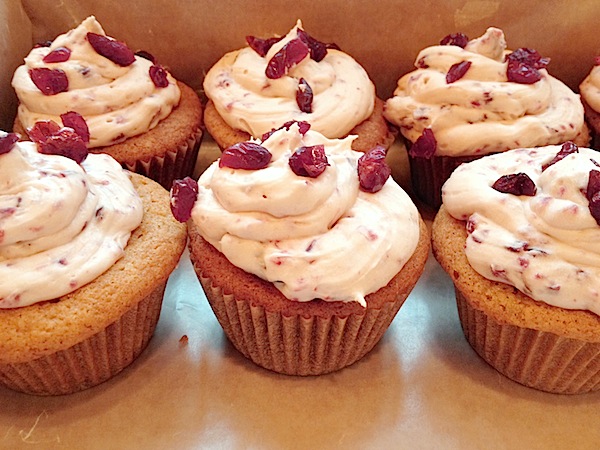 Pumpkin Spice Cupcakes with Cranberry Frosting
December 12, 2012
These little cupcakes have a lot going on. Starting with a simple spice cake cupcake you pipe a pumpkin cheesecake center right in the middle and top the whole thing with a tangy cranberry buttercream frosting. Serve these fresh, room temperature, not refrigerated.
Recipe:
Yield: appx 18 cupcakes.
Cake:
2 batches of this buttermilk cake recipe (without the berries) with the following additions;
2 tsp cinnamon
1 tsp ground nutmeg
pinch of ground cloves
Pumpkin Filling:
4 heaping tablespoons pureed pumpkin
4 ounces cream cheese (softened)
1 tsp molasses
1 tbsp brown sugar
4 tablespoons cupcake batter
Frosting:
3 1/2 cup confectioners sugar
1 stick butter softened
1 tsp vanilla extract
1 tbsp pomegranate molasses
1/2 cup dried cranberries (either chopped or proceeded to the smallest pieces possible)
Instructions:
Cupcake Batter:
Following the instructions on the Gourmet.com website for 2 times the base recipe for the buttermilk cake. Set aside.
Pumpkin Filling:
In a medium bowl mix all ingredients and blend on low for approximately 2 minutes (you want to get some air and 'loft' into the mix). Once pumpkin mixture is combined spoon into a pastry bag with the widest round tip you have (or use a bag made from parchment with a large opening – a little smaller than the diameter of a dime is perfect).
Baking Instructions:
Spoon approximately 1.5 tablespoons of the cupcake mixture into each cupcake liner.
Bake at 350F for approximately 8 minutes or until cupcakes just begin to rise (the timing all depends on your oven so check every couple minutes). Quickly pull each tray of cupcakes out, dip the pastry bag tip into the center of the batter and squeeze about a tablespoon into each. Timing is important here because you don't want your cupcakes out of the oven more than a minute.
Bake until cupcakes are fully cooked (approximately 20 minutes). Remove from oven and let cool to room temperature.
Cranberry Frosting:
Using an electric mixer, combine butter, vanilla, pomegranate molasses, and one cup confectioners sugar until fully combined. In one cup increments blend in the remaining sugar. Min in the cranberries and let sit for about 30 minutes (which should give you plenty of time to
Assembly:
If you were able to cut your dried cranberry pieces VERY small You can pipe this frosting using a very large round tip.
If you were not able to chop the cranberries small it would be better to ice your cupcakes with a spatula.
Garnish with either fresh or dried cranberries. Serve at room temperature (the flavor just isn't the same after refrigeration).
Tags: cheesecake, cranberry, Pumpkin, spice