rice pudding with coconut and cardamom recipe
February 9, 2011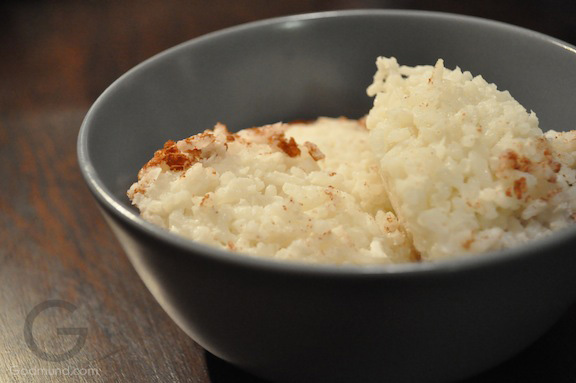 Mmmmm…. Rice pudding is awesome. Especially when you make it with coconut milk. it gives it this subtle coconut flavor and a nice fatty deliciousness that is coconut fat. its good. Throw in just a little sugar and sprinkle with cinnamon and cardamom and its rice pudding time!
Recipe:
1 can coconut milk
2 cups jasmine rice
1/2 cup granulated sugar
1 cup whole milk
1/2 cup shredded coconut (optional)
1 tsp cardamom (optional)
1tbsp cinnamon
Pour the can of coconut milk into a measuring cup. Add water until you can measure 3 total cups of liquid. Pour liquid into pot and bring it to boil (mix to make sure nothing gets burned on the bottom). Add rice, reduce heat to a simmer and cover pot. 15-20 minutes and the rice is done. Let rice cool till warm (45 min). While its still in the pot mix in sugar, milk and shredded coconut (optional). Recover rice and let sit for 1 hour. Serve with cinnamon and cardamom!
Tags: cardamom, cinnamon, coconut, recipe, rice pudding