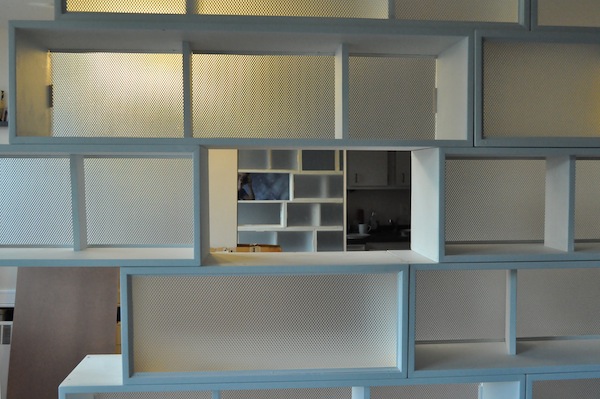 A new set of shelves and a new bedroom!
August 29, 2013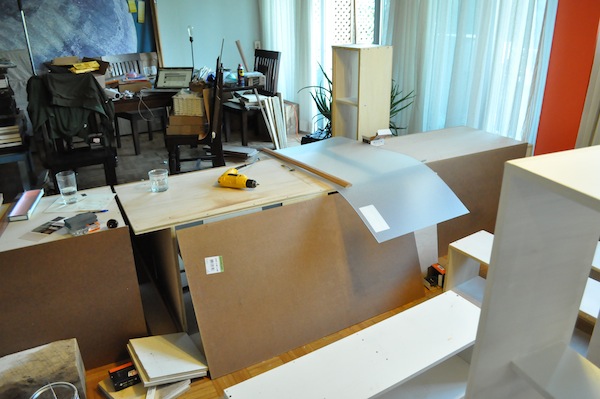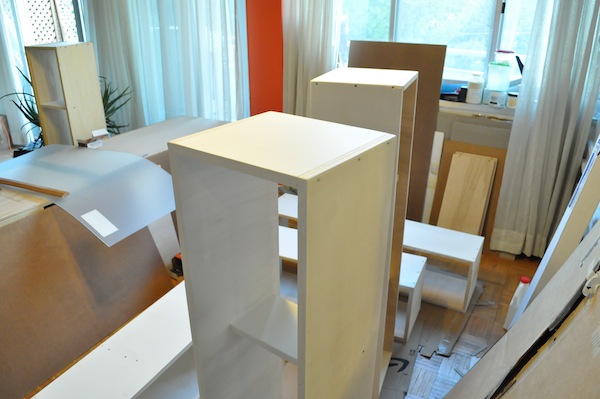 About two moths ago I bought the condo I have been renting for the last two years. Its a great place. And huge (for the DC area at least). Its so big that its a bit odd to live in it solo. So I decided it was time to get a roommate. Only problem is, my wonderful 'new' condo only has one official bedroom. Luckily the living room and dining room area is enormous. I decided it would be feasible to use the dining room as a second bedroom, but only if I could wall it off. It would create a small 9×13′ bedroom.
Im not very good at drywall, and if you've been to my place you know I LOVE modular furniture. So I used this opportunity to build up a great storage solution that doubles as a temporary divider between the two rooms. There was something strange about cutting this room off by a third. It seemed too severe. There are large windows all along the large open living and dining area and it seemed a shame to cut off the light between the rooms. So I decided to 'back' each of the modular units with translucent glass. After some tests I quickly changes the glass idea to translucent acrylic… its much safer under pressure.
The shelves alternate between facing towards the living room and facing towards the new bedroom. This split the storage capability between the two room and balanced the rhythms of the modular grid on either side.
The bottom of the structure is made up of three 2'x 4'x 2′ cabinets for storage. The center cabinet is split into several different 'flat files' for storing art work, photographs, and other things that like to be stored flat. These flat files are made from 1/4″ MDF supported by 3/4″ strips of hardwood plywood. If I had the project to do over again i would have planned for drawer rails for each of these. They are very large and its difficult to remove them/insert them back in. At some point soon ill have to retrofit the cabinet with some rails.
The other two cabinets are simple sliding door cabinets. The tracks the sliding doors rest on are 1 1/4″ wide strips of plywood I ran through the table saw multiple times in order to cut in the 3/8″ matching tracks for each. it worked out perfectly and im very happy with the overall technique.
This project took about a month of nights and weekends. Im very glad to have it finished. It turned out relatively well and now I can start looking for a roommate!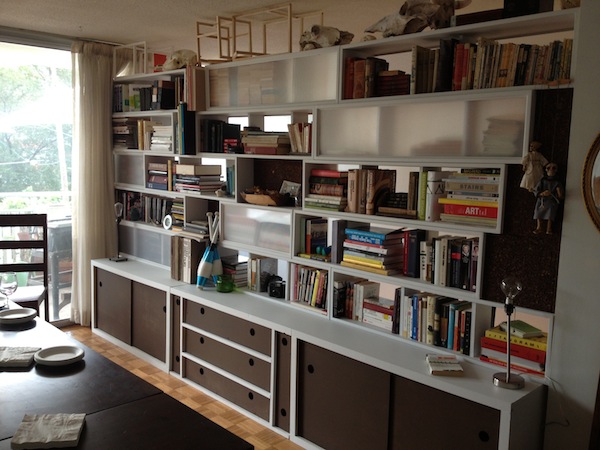 Tags: condo improvements, DIY, shelves, translucent