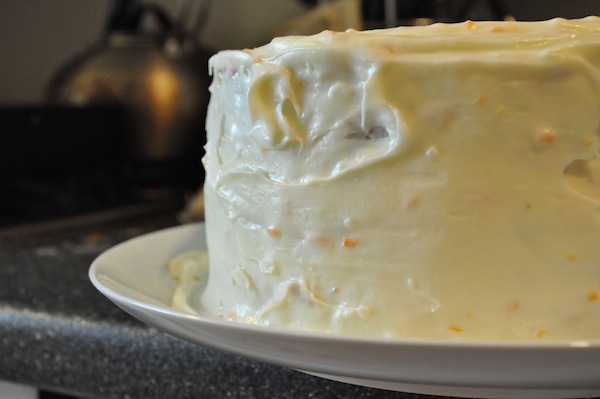 The 'Too Many Flavors' Cake
March 24, 2013
Sometimes I get carried away with a flavor idea… and its a GREAT idea at first… and then I just start grabbing things off the shelf and I almost ruin it. Well… this is sort of one of those recipes. It started out as a orange ginger cake but ended up a 'ginger/cardamom cake with orange and coconut frosting'. The end result was actually pretty delicious. Maybe next time i'll do a better job of focusing in on the a 1-2 flavor punch. In the meantime enjoy this flavorful and exciting recipe for the 'too many flavors' cake.
Recipe:
Cake:
2 Cups all purpose flour
1 tsp baking powder
1 tsp baking soda
1/2 tsp salt
1.5 Cups white sugar
1tsp vanilla extract
2 eggs
1 cup buttermilk
1/2 tsp ground cardamom
2 tsp diced ginger (or ginger paste)
1/2 tsp ground ginger
Filling:
1 Cup Whipping Cream
1/3 cup white sugar
Frosting:
1 Stick of softened butter
1 Brick softened cream cheese
1 tsp vanilla extract
3 cups powdered sugar
zest of one medium orange (1/4 cup)
2 tablespoons sour cream
Topping:
1 cup coconut shavings
Directions Cake:
Combine flour, baking powder, baking soda, salt in one bowl. In a seperate bowl combine the butter, sugar, vanilla, ginger, cardamom and eggs. Add in one third of the flour. Combine. Add in half of the buttermilk. Combine. Repeat until all flour and buttermilk is added to the butter mixture.
Bake in two separate 8″ cake rounds.
Once fully baked cool and remove from pans. Bring to room temperature and slice into 4 separate layers.
Directions Filling:
In a chilled bowl beat on high speed the whipping cream and sugar until stiff. Stack cake layers with a layer of the whipped cream equally divided in between each. Chill cake for approximately 30 minutes (keep cake covered in refrigerator).
Directions Frosting:
In bowl beat softened butter and cream cheese for 2 minutes. Mix orange zest into Add powdered sugar one cup at a time, beating for 1 minute on high between each addition. Beat in sour cream until fully combined.
This is a sticky frosting naturally, but when beaten it should hold its form. If it does not gradually beat in one half a cup of powdered sugar at a time until it does.
Frost the cake starting with the sides and finishing with the top. Once cake is fully frosted sprinkle shredded coconut on cake until fully covered. Serve!