Useless cake turns into trifle!
June 18, 2011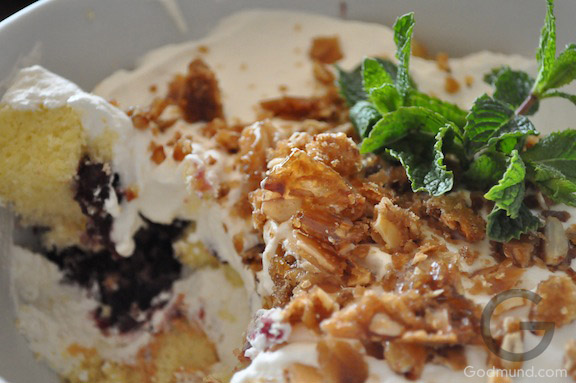 So, occasionally a cake i'm baking doesn't quite leave the pan in one piece… Whenever this happens I usually turn the entire cake into a trifle. For some reason I ALWAYS seem to have a pint of heavy whipping cream in my fridge (its been really inexpensive lately, and when I run out of regular milk its a necessity for my morning coffee) so I just whip the pint into a batch of light whipped cream, rip up the cake into dice sized chunks, and with the addition of some berries (or preserves if you're really up the creek) you can put together a very respectable desert from your disheveled/deformed cake. I like making a quick praline to give the soft cake and light cream a little contrast.
Recipe:
1-2 cakes (I seem to end up using Genoise quite a bit) torn or cubed into dice sized pieces.
1 pint heavy whipping cream
1 teaspoon vanilla sugar (or half teaspoon vanilla extract)
1/3 cup granulated sugar
1 teaspoon corn starch
1 quart fresh berries
OR
1 Jar raspberry/blackberry/strawberry preserves
Praline (optional)
2/3 cup brown sugar
1/4 cup slivered almonds (or other favorite nut)
3 tablespoons butter (softened)
1/2 teaspoon cinnamon
1/2 teaspoon ground ginger
The Whipped Cream:
place the bowl and beaters you will use to whip the cream in your freezer for 10-15 minutes before use. Pour whipping cream into bowl and beat until soft peaks first begin to form. Add in vanilla extract, sugar and corn starch and continue beating until stiff peaks form. Place in refrigerator until needed.
Praline Cooking Instructions:
In a small bowl combine brown sugar, almonds, cinnamon, ginger, and butter until it is a crumbly paste. Wrap a small cookie sheet in tin foil. spread out the praline mixture evenly across the small cookie sheet and bake for approximately 10 minutes at 400F (or until sugar appears to be melted). Remove from oven and let cool. Put in freezer for 10 minutes. Take out of freezer and gently pull away tin foil from stiff praline.
Assembly:
Divide your cake cubes into three equal piles. In a large mixing bowl (appropriate for serving) layer one pile of cubes. On top of first layer spread a small amount of whipping cream (no more than 4 tablespoons). On top of whipped cream distribute berries (or 3 tablespoons of preserves). Repeat steps until all cake and berries have been used (reserving at least 1 1/2 cups of whipped cream for the final layer). Spread final portion of whipped cream to completely cover the surface of the layers below. Set in refrigerator for 30 minutes. Once chilled crumble praline lightly on surface of the Triffle. Serve!
Tags: berries, genoise, praline, preserves, recipe, sponge cake, trifle, trifle recipe, whipped cream