Basic Bread Stuffing
November 24, 2010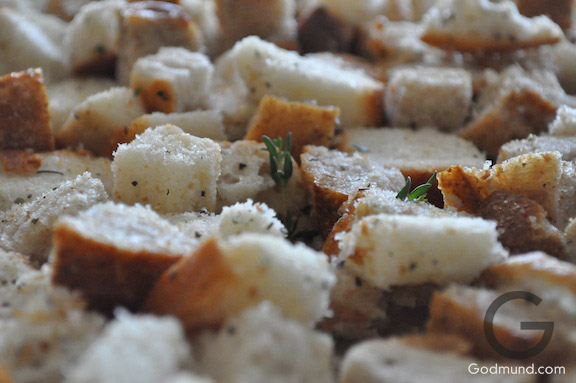 This is my really simple stuffing recipe. I made this originally to contribute to a vegan thanksgiving two years ago (hopefully the last time ill have to eat a Tofurkey… ever… I think Tofurkey's make baby Jesus sad).
So if you are a vegan out there you can easily replace the butter with your favorite artificial butter and do just fine :-)
Recipe:
6 cups cubed french bread/whatever white and wheat bread you have lying around
1/2 cup olive oil
1 tablespoon dried rosemary
1 tablespoon dried basil
1 tablespoon dried thyme
1 tablespoon dried oregano
1 teaspoon paprika
1 teaspoon ground black pepper
1 teaspoon salt
2 tablespoons minced garlic
3 cups vegetable broth (2 for drier stuffing)
1 stick butter
1 inch cut salt pork (optional)
1 sprig fresh rosemary
1 tablespoon minced garlic
1 bay leaf
1 small yellow onion sliced into small pieces
1 cup sliced carrots
2 sticks celery cut small
1 1/2 cups mushrooms (cut)
1/2 cup chestnuts (optional)
Dump bread cubes in a paper grocery bag, add olive oil, all spices, salt, and minced garlic. fold the top of the paper bag and shake vigorously for 30 seconds.
dump the coated bread cubes out onto lined baking sheets (you'll need 2-3). Place in the oven at 190 until cubes are completely dry and lightly toasted.
In a saucepan combine vegetable broth, butter, rosemary, garlic, bay leaf and salt pork. Bring to a simmer, cover.
in separate sauce pans sauté onions, carrots, and mushrooms until they are soft (you can use butter or vegetable oil).
combine onions, carrots, mushrooms, bread crumbs, celery, chestnuts into a large container. pour vegetable broth mixture over bread cubes (remove pork). lightly toss cubes for a consistent mixture. cover and let sit for 15 minutes. serve or chill.